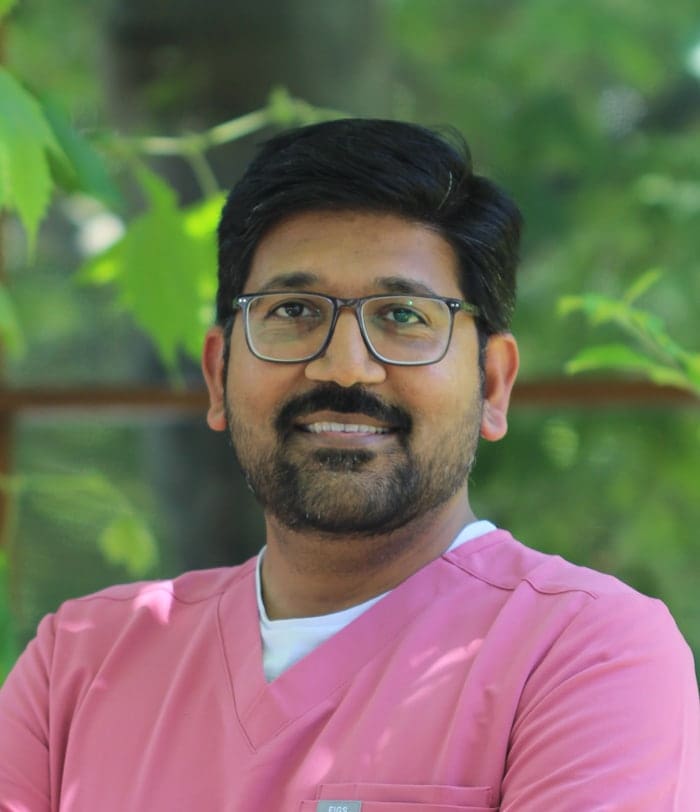 Dr Srikanth Karumuri
PRINCIPAL DENTIST
Experience: 20 years
President ACT Dental Study Group
Phone: (02) 6247 1247
E-mail: care.dentalembassy@gmail.com
DR SRI IS AN EMPATHETIC, CARING AND GENTLE DENTIST WHO HAS BEEN WORKING IN THE FIELD SINCE 2003.
He gained a specialist qualification in pediatric dentistry from India. Though he is not a specialist in Australia he takes a keen interest in managing the dental needs of children. He has been working in Australia since 2010. Together with his wife who is an Audiologist, he worked in Sydney and rural NSW before moving to Canberra in 2014.
He spends considerable time in continuing education to enable him to practice evidence-based dentistry. With empathy for fear and anxiety experienced by his patients towards dentistry, he has recently completed postgraduate education in the field of conscious sedation and pain management from the University of Sydney, so he can manage dental phobic patients. We will be able to offer sleep dentistry in our clinic, in the near future. He is also a member of, Australian Dental Association NSW and ACT branch's advisory committee which discusses important policies which affect the oral health of the community.
When not at work he is busy with his little boys, loves to take long walks exploring the landscape of Canberra and likes to wind down at his weekend yoga and meditation session.
COMPETITIVE

And

VALUE BASED

TREATMENT FOR
The Entire Family
GENTLE DENTISTS
Friendly staff and Gentle Dentists make sure that you have a pain-free and stress-free treatment for your dental conditions.

INDIVIDUALISED TREATMENT
With multiple payment plans and health fund rebates, don't put off your dental treatment any longer.

ULTRA MODERN FACILITIES
We have the latest technology and techniques to offer a multitude of dental treatments, all under one roof.

SMILE DESIGN
We're experienced in cosmetic dentistry to get you your most beautiful smile.
CONVENIENT LOCATION
Dental Embassy is conveniently located in Lyneham close to the city.

ACCESSIBLE PARKING
Dental Embassy has plenty of parking around the clinic so parking is never a hassle.