HAVE YOU GOT MISSING TEETH? IS THIS HURTING YOUR CONFIDENCE?
IS IT ALSO CAUSING SPEECH IMPEDIMENTS AND PROBLEMS WITH CHEWING?
GET THE LATEST IN DIGITALLY ASSISTED DENTAL IMPLANTS
Dental implants are artificial roots and teeth (usually titanium) that are surgically placed into the upper or lower jaw bone. The teeth attached to implants are very natural looking and often enhance or restore a patient's smile!
Dental implants are very strong, stable, and durable and will last many years, but on occasion, they will have to be re-tightened or replaced due to normal wear.
Replace one or more missing teeth without affecting adjacent teeth.
Restore a patient's confident smile.
Resolve joint pain or bite problems caused by teeth shifting into missing tooth space.
A dental implant can preserve the integrity of facial structures by preventing bone resorption that would normally occur with the loss of teeth- facial structures remain intact.
Dental implants can lead to better health due to improved nutrition and proper digestion.
Dental implants can eliminate denture adhesives.
A dental implant provides a great sense of security that teeth will not fall out when eating, laughing or sneezing.
Dental implants minimize compromising adjacent teeth for procedures such as bridges.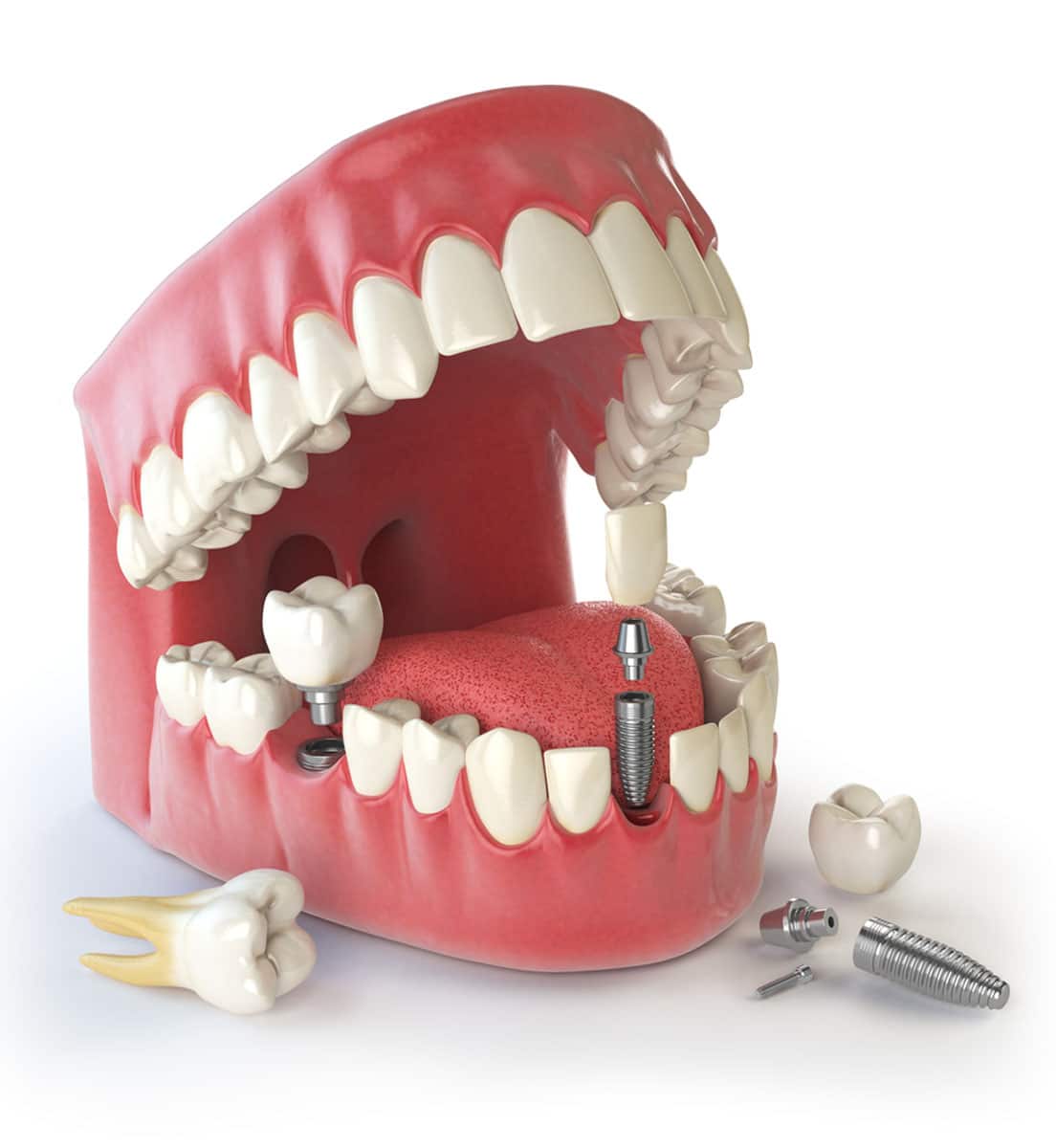 THE PROCESS OF GETTING IMPLANTS REQUIRES A NUMBER OF VISITS OVER SEVERAL MONTHS.
X-rays and impressions (mould) are taken of the jaw and teeth to determine bone, gum tissue, and spacing available for an implant. While the area is numb, the implant will be surgically placed into the bone and allowed to heal and integrate itself onto the bone for up to six months. Depending on the type of implant, a second surgery may be required in order to place the "post" that will hold the artificial tooth in place. With other implants the post and anchor are already attached and placed at the same time.
After several weeks of healing the artificial teeth are made and fitted to the post portion of the anchor. Because several fittings may be required, this step may take one to two months to complete. After a healing period, the artificial teeth are securely attached to the implant, providing excellent stability and comfort to the patient.
You will receive care instructions when your treatment is completed. Good oral hygiene, eating habits, and regular dental visits will aid in the life of your new implant.
COMPETITIVE

And

VALUE BASED

TREATMENT FOR
The Entire Family
GENTLE DENTISTS
Friendly staff and Gentle Dentists make sure that you have a pain-free and stress-free treatment for your dental conditions.

INDIVIDUALISED TREATMENT
With multiple payment plans and health fund rebates, don't put off your dental treatment any longer.

ULTRA MODERN FACILITIES
We have the latest technology and techniques to offer a multitude of dental treatments, all under one roof.

SMILE DESIGN
We're experienced in cosmetic dentistry to get you your most beautiful smile.
CONVENIENT LOCATION
Dental Embassy is conveniently located in Lyneham close to the city.

ACCESSIBLE PARKING
Dental Embassy has plenty of parking around the clinic so parking is never a hassle.